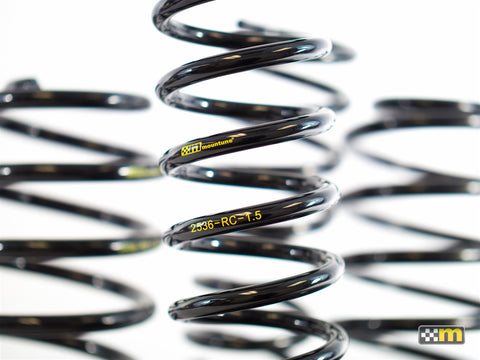 Mountune
mountune Sport Spring Set Ford Focus RS 2016-2018
Transform the handling and appearance of your Ford Focus RS 2016-2018 with mountune Sport Spring Set - the perfect upgrade for performance-minded enthusiasts.
Crafted from high-tensile steel, these progressive-rate springs are designed to lower your vehicle's center of gravity, enhancing its handling and cornering capabilities. With mountune Sport Spring Set, you'll enjoy a more precise, responsive ride with reduced body roll and improved traction.
The mountune Sport Spring Set is engineered to maintain a comfortable ride quality while enhancing your vehicle's sporty appearance. With a drop of approximately 25mm, your Focus RS will have a more aggressive stance and a more dynamic look.
The installation process is straightforward, and the set includes all necessary hardware and instructions. Each spring is also powder-coated for durability and rust resistance, ensuring long-lasting performance.
Whether you're a performance enthusiast or simply seeking to upgrade your vehicle's handling and appearance, the mountune Sport Spring Set is an ideal choice. Trust the experts at mountune for premium quality and precision engineering that delivers maximum results.
Key Features:
Optimized spring rate
Ride height reduction Front 15mm
Ride height reduction Rear 15mm
Durable high gloss finish