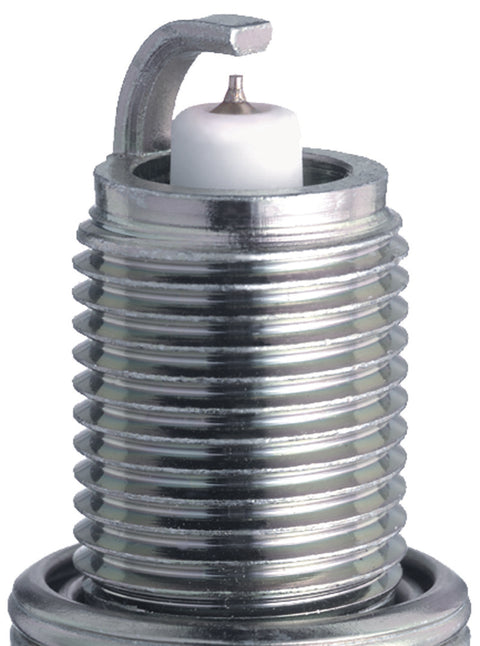 NGK
NGK GP Platinum Spark Plugs Box of 4 (BKR5EGP)
If you're looking for a reliable spark plug for your engine, look no further than the NGK GP Platinum Spark Plugs. These plugs are designed to provide consistent performance and long-lasting durability.
The NGK GP Platinum Spark Plugs feature a platinum electrode that ensures reliable ignition, as well as a trivalent metal plating that provides superior anti-corrosion and anti-seizing properties. The V-groove in the center electrode also helps to improve ignitability and reduce fouling.
This box of 4 BKR5EGP plugs is perfect for those who want to ensure that their engine is always running at peak performance. With NGK's commitment to quality and innovation, you can trust that these spark plugs will provide excellent performance and reliability for years to come.
In summary, the NGK GP Platinum Spark Plugs are a top-of-the-line choice for those who demand the best from their engine. With their advanced features and superior design, these plugs are sure to keep your engine running smoothly and efficiently. So why wait? Order your box of 4 BKR5EGP plugs today and experience the NGK difference!
This Part Fits:
| Year | Make | Model | Submodel |
| --- | --- | --- | --- |
| 1996-1998 | Acura | RL | Base |
| 1996-2004 | Acura | RL | Premium |
| 1998 | Acura | RL | SE |
| 1996-1997 | Acura | SLX | Base |
| 1996-1999 | Acura | SLX | Premium |
| 1995-1998 | Acura | TL | Base |
| 1995-1998 | Acura | TL | Premium |
| 1992-1994 | Acura | Vigor | GS |
| 1992-1994 | Acura | Vigor | LS |
| 2000-2001 | Bentley | Arnage | Green Label |
| 2002-2009 | Bentley | Arnage | R |
| 2000-2002 | Bentley | Arnage | Red Label |
| 2001-2009 | Bentley | Arnage | RL |
| 2002-2009 | Bentley | Arnage | T |
| 1996-2003,2006-2008 | Bentley | Azure | Base |
| 1999-2002 | Bentley | Azure | Mulliner |
| 1993-1998 | Bentley | Brooklands | Base |
| 1993-1998 | Bentley | Brooklands | LWB |
| 1985-1995 | Bentley | Continental | Base |
| 1993-2003 | Bentley | Continental | R |
| 1999-2000 | Bentley | Continental | SC |
| 1997-2003 | Bentley | Continental | T |
| 1984 | Bentley | Corniche | Base |
| 1984,1986-1991 | Bentley | Eight | Base |
| 1984-1986 | Bentley | Mulsanne | Base |
| 1985-1986 | Bentley | Mulsanne | L |
| 1987-1992 | Bentley | Mulsanne | S |
| 1988-1996 | Bentley | Turbo R | Base |
| 1992-1998 | Bentley | Turbo R | LWB |
| 1997-2001 | Cadillac | Catera | Base |
| 1999-2001 | Cadillac | Catera | Sport |
| 1992-1993 | Chevrolet | Beretta | GTZ |
| 1994 | Chevrolet | Beretta | Z26 |
| 1990-1992 | Chevrolet | Corvette | ZR-1 |
| 1998-2002 | Chevrolet | Prizm | Base |
| 1998-2002 | Chevrolet | Prizm | LSi |
| 2001-2004 | Chevrolet | Tracker | Base |
| 2001-2004 | Chevrolet | Tracker | LT |
| 2001-2004 | Chevrolet | Tracker | ZR2 |
| 1995-1997,2000 | Chrysler | Cirrus | LX |
| 1995-2000 | Chrysler | Cirrus | LXi |
| 2004-2007 | Chrysler | Crossfire | Base |
| 2005-2008 | Chrysler | Crossfire | Limited |
| 2004-2005 | Chrysler | Sebring | Base |
| 1996-2000 | Chrysler | Sebring | JX |
| 1996-2000 | Chrysler | Sebring | JXi |
| 2004-2005 | Chrysler | Sebring | Limited |
| 1995-2003 | Chrysler | Sebring | LX |
| 1995-2000,2002-2003 | Chrysler | Sebring | LXi |
| 1997-2000 | Dodge | Avenger | Base |
| 1995-2000 | Dodge | Avenger | ES |
| 1993-1994 | Dodge | Colt | Base |
| 1994 | Dodge | Colt | ES |
| 1993 | Dodge | Colt | GL |
| 1995-1996 | Dodge | Ram 2500 | Base |
| 1995-1997 | Dodge | Ram 3500 | Base |
| 1995-2000 | Dodge | Stratus | ES |
| 2002-2005 | Dodge | Stratus | R/T |
| 2001-2003 | Dodge | Stratus | SE |
| 2003-2005 | Dodge | Stratus | SXT |
| 1992-1996 | Eagle | Summit | Base |
| 1992-1996 | Eagle | Summit | DL |
| 1993-1994 | Eagle | Summit | ES |
| 1994-1995 | Eagle | Summit | ESi |
| 1992-1996 | Eagle | Summit | LX |
| 1989-1995 | Ford | Taurus | SHO |
| 2005 | Ford | Thunderbird | 50th Anniversary Edition |
| 2002-2005 | Ford | Thunderbird | Base |
| 2004 | Ford | Thunderbird | Pacific Coast Roadster |
| 1989,1993-1997 | Geo | Prizm | Base |
| 1993-1997 | Geo | Prizm | LSi |
| 1992-1993 | Geo | Storm | 2+2 GSi |
| 2003-2005 | Honda | Civic | Hybrid |
| 1996-2002 | Honda | Passport | EX |
| 1996-2002 | Honda | Passport | LX |
| 1995-1996,2003-2004 | Hyundai | Accent | Base |
| 2010 | Hyundai | Accent | Blue |
| 1997-2004,2011 | Hyundai | Accent | GL |
| 2005-2011 | Hyundai | Accent | GLS |
| 1997-2002,2007-2011 | Hyundai | Accent | GS |
| 1998 | Hyundai | Accent | GSi |
| 1996-1997,2004-2005 | Hyundai | Accent | GT |
| 1995-2002 | Hyundai | Accent | L |
| 2007-2011 | Hyundai | Accent | SE |
| 2007-2011 | Hyundai | Azera | GLS |
| 2006-2011 | Hyundai | Azera | Limited |
| 2006-2007 | Hyundai | Azera | SE |
| 1996-1998 | Hyundai | Elantra | Base |
| 1996-1999 | Hyundai | Elantra | GL |
| 1996-2007 | Hyundai | Elantra | GLS |
| 2001-2006 | Hyundai | Elantra | GT |
| 2006-2007 | Hyundai | Elantra | Limited |
| 2007 | Hyundai | Elantra | SE |
| 2007-2008 | Hyundai | Entourage | GLS |
| 2007-2008 | Hyundai | Entourage | Limited |
| 2007 | Hyundai | Entourage | SE |
| 2005 | Hyundai | Santa Fe | Base |
| 2001 | Hyundai | Santa Fe | GL |
| 2001-2006 | Hyundai | Santa Fe | GLS |
| 2006-2009 | Hyundai | Santa Fe | Limited |
| 2001-2005 | Hyundai | Santa Fe | LX |
| 2007-2009 | Hyundai | Santa Fe | SE |
| 1993-1995 | Hyundai | Scoupe | Base |
| 1993-1995 | Hyundai | Scoupe | LS |
| 2004-2006 | Hyundai | Sonata | GL |
| 1999-2009 | Hyundai | Sonata | GLS |
| 2007-2010 | Hyundai | Sonata | Limited |
| 2002-2006 | Hyundai | Sonata | LX |
| 2007-2010 | Hyundai | Sonata | SE |
| 1997-2001,2003-2004 | Hyundai | Tiburon | Base |
| 1997-1999 | Hyundai | Tiburon | FX |
| 2005-2008 | Hyundai | Tiburon | GS |
| 2003-2008 | Hyundai | Tiburon | GT |
| 2007-2008 | Hyundai | Tiburon | GT Limited |
| 2005-2008 | Hyundai | Tiburon | SE |
| 2005-2006 | Hyundai | Tucson | GL |
| 2005-2009 | Hyundai | Tucson | GLS |
| 2006-2009 | Hyundai | Tucson | Limited |
| 2005 | Hyundai | Tucson | LX |
| 2007-2009 | Hyundai | Tucson | SE |
| 2007-2012 | Hyundai | Veracruz | GLS |
| 2007-2012 | Hyundai | Veracruz | Limited |
| 2007-2008 | Hyundai | Veracruz | SE |
| 2001 | Hyundai | XG300 | Base |
| 2001 | Hyundai | XG300 | L |
| 2002-2005 | Hyundai | XG350 | Base |
| 2002-2005 | Hyundai | XG350 | L |
| 1999-2002 | Infiniti | G20 | Base |
| 1999-2002 | Infiniti | G20 | T |
| 1996-2001 | Infiniti | I30 | Base |
| 1996-2001 | Infiniti | I30 | T |
| 1993-1997 | Infiniti | J30 | Base |
| 1993-1997 | Infiniti | J30 | T |
| 1991-1996 | Infiniti | Q45 | A |
| 2000 | Infiniti | Q45 | Anniversary Edition |
| 1990-2001 | Infiniti | Q45 | Base |
| 1994-2001 | Infiniti | Q45 | T |
| 1997-2000 | Infiniti | QX4 | Base |
| 1998-2000 | Isuzu | Amigo | S |
| 2002-2003 | Isuzu | Axiom | Base |
| 2002-2003 | Isuzu | Axiom | XS |
| 1996-2003 | Isuzu | Rodeo | LS |
| 1999-2003 | Isuzu | Rodeo | LSE |
| 1996-2004 | Isuzu | Rodeo | S |
| 2001-2003 | Isuzu | Rodeo | S V6 |
| 2001-2003 | Isuzu | Rodeo Sport | S |
| 2001-2003 | Isuzu | Rodeo Sport | S V6 |
| 2000-2002 | Isuzu | Trooper | Limited |
| 1996-1997,2000-2002 | Isuzu | Trooper | LS |
| 1997 | Isuzu | Trooper | Ltd |
| 1996-2002 | Isuzu | Trooper | S |
| 1996 | Isuzu | Trooper | SE |
| 1999-2001 | Isuzu | VehiCROSS | Base |
| 2000-2004,2006-2008 | Jaguar | S-Type | Base |
| 2003-2008 | Jaguar | S-Type | R |
| 2005 | Jaguar | S-Type | Sport |
| 2006 | Jaguar | S-Type | VDP Edition |
| 2005-2009 | Jaguar | Super V8 | Base |
| 2006 | Jaguar | Super V8 | Portfolio |
| 1993-2009 | Jaguar | Vanden Plas | Base |
| 2000-2003 | Jaguar | Vanden Plas | SC |
| 2010 | Jaguar | XF | Base |
| 2009 | Jaguar | XF | Luxury |
| 2009 | Jaguar | XF | Premium Luxury |
| 2009 | Jaguar | XF | Supercharged |
| 1998-2009 | Jaguar | XJ8 | Base |
| 1998-2001,2005-2009 | Jaguar | XJ8 | L |
| 2002-2003 | Jaguar | XJ8 | Sport |
| 2002 | Jaguar | XJR | 100 |
| 1997,1999-2009 | Jaguar | XJR | Base |
| 2007-2009 | Jaguar | XK | Base |
| 1997-2006 | Jaguar | XK8 | Base |
| 2006 | Jaguar | XK8 | Victory Edition |
| 2002 | Jaguar | XKR | 100 |
| 2000-2009 | Jaguar | XKR | Base |
| 2008-2009 | Jaguar | XKR | Portfolio |
| 2001 | Jaguar | XKR | Silverstone |
| 2006 | Jaguar | XKR | Victory Edition |
| 1987-1990 | Jeep | Cherokee | Base |
| 1987-1988 | Jeep | Cherokee | Chief |
| 1987-1990 | Jeep | Cherokee | Laredo |
| 1987-1990 | Jeep | Cherokee | Limited |
| 1987-1990 | Jeep | Cherokee | Pioneer |
| 1989-1990 | Jeep | Cherokee | Sport |
| 1987-1990 | Jeep | Comanche | Base |
| 1987-1988 | Jeep | Comanche | Chief |
| 1988-1990 | Jeep | Comanche | Eliminator |
| 1987-1988 | Jeep | Comanche | Laredo |
| 1987-1990 | Jeep | Comanche | Pioneer |
| 1987 | Jeep | Wagoneer | Base |
| 1987-1990 | Jeep | Wagoneer | Limited |
| 2004-2009 | Kia | Amanti | Base |
| 2004-2008 | Kia | Optima | EX |
| 2001-2008 | Kia | Optima | LX |
| 2001-2003 | Kia | Optima | SE |
| 2006-2011 | Kia | Rio | Base |
| 2006-2011 | Kia | Rio | LX |
| 2007-2011 | Kia | Rio | SX |
| 2008-2011 | Kia | Rio5 | LX |
| 2006-2011 | Kia | Rio5 | SX |