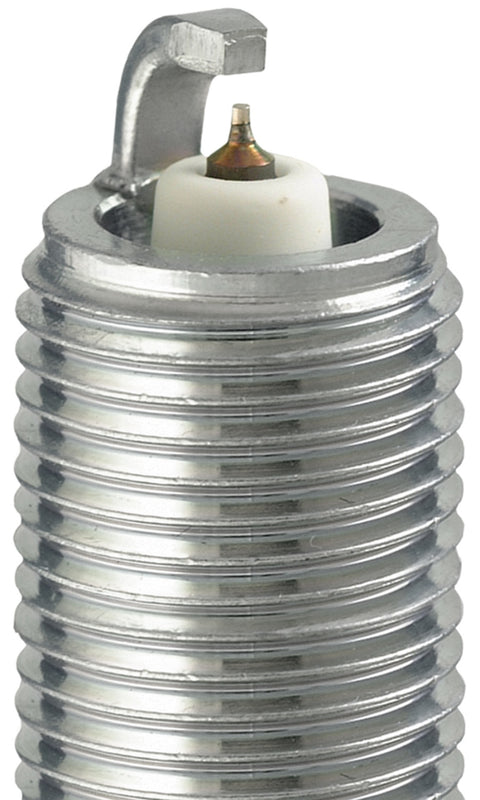 NGK
NGK Iridium IX Spark Plug Box of 4 (LTR6IX)
Looking for a high-quality spark plug that can help boost your vehicle's performance and fuel efficiency? Look no further than the NGK Iridium IX Spark Plug Box of 4 (LTR6IX).
Crafted with advanced iridium technology, these spark plugs deliver powerful ignition and exceptional durability. The ultra-fine wire iridium center electrode and tapered cut ground electrode provide superior ignitability, allowing your engine to run smoother and more efficiently.
Not only do these spark plugs provide top-notch performance, but they also feature a trivalent metal plating that offers superior anti-corrosion and anti-seizing properties. This ensures that the spark plugs last longer and remain in excellent condition, even in harsh operating conditions.
Each box contains 4 spark plugs, making it easy to replace your entire set at once. And with NGK's reputation for quality and reliability, you can trust that these spark plugs will deliver outstanding performance and durability for miles to come.
Upgrade your vehicle's performance with the NGK Iridium IX Spark Plug Box of 4 (LTR6IX) today.
This Part Fits:
| Year | Make | Model | Submodel |
| --- | --- | --- | --- |
| 2016-2020 | Buick | Envision | Premium |
| 2015-2017 | Buick | Regal | Base |
| 2014-2017 | Buick | Regal | GS |
| 2014-2017 | Buick | Regal | Premium |
| 2016-2017 | Buick | Regal | Sport Touring |
| 2018-2020 | Buick | Regal Sportback | Base |
| 2018-2020 | Buick | Regal Sportback | Essence |
| 2018-2020 | Buick | Regal Sportback | Preferred |
| 2018-2019 | Buick | Regal Sportback | Preferred II |
| 2018-2020 | Buick | Regal TourX | Base |
| 2018-2020 | Buick | Regal TourX | Essence |
| 2018-2020 | Buick | Regal TourX | Preferred |
| 2013-2019 | Cadillac | ATS | Base |
| 2013-2019 | Cadillac | ATS | Luxury |
| 2013-2016 | Cadillac | ATS | Performance |
| 2013-2016 | Cadillac | ATS | Premium |
| 2016-2018 | Cadillac | CT6 | Base |
| 2016-2018 | Cadillac | CT6 | Luxury |
| 2017-2018 | Cadillac | CT6 | Plug-In |
| 2014-2019 | Cadillac | CTS | Base |
| 2014-2019 | Cadillac | CTS | Luxury |
| 2014-2016 | Cadillac | CTS | Performance |
| 2014-2016 | Cadillac | CTS | Premium |
| 2017-2020 | Chevrolet | Camaro | LS |
| 2016-2020 | Chevrolet | Camaro | LT |
| 2018-2020 | Chevrolet | Equinox | LT |
| 2018-2020 | Chevrolet | Equinox | Premier |
| 2013-2016 | Chevrolet | Malibu | LT |
| 2013-2015 | Chevrolet | Malibu | LTZ |
| 2016-2020 | Chevrolet | Malibu | Premier |
| 2018-2019 | Chevrolet | Traverse | RS |
| 2018-2020 | Ford | EcoSport | S |
| 2018-2020 | Ford | EcoSport | SE |
| 2018-2020 | Ford | EcoSport | SES |
| 2018-2020 | Ford | EcoSport | Titanium |
| 2012-2014 | Ford | Edge | Limited |
| 2012-2020 | Ford | Edge | SE |
| 2012-2020 | Ford | Edge | SEL |
| 2015-2020 | Ford | Edge | Titanium |
| 2020 | Ford | Escape | S |
| 2013-2020 | Ford | Escape | SE |
| 2013,2018-2020 | Ford | Escape | SEL |
| 2013-2019 | Ford | Escape | Titanium |
| 2015-2017 | Ford | Expedition | EL King Ranch |
| 2015-2017 | Ford | Expedition | EL Limited |
| 2015-2017 | Ford | Expedition | EL Platinum |
| 2016-2017 | Ford | Expedition | EL SSV |
| 2015-2017 | Ford | Expedition | EL XL |
| 2015-2017 | Ford | Expedition | EL XLT |
| 2015-2017 | Ford | Expedition | King Ranch |
| 2015-2019 | Ford | Expedition | Limited |
| 2018-2019 | Ford | Expedition | Max Limited |
| 2018-2019 | Ford | Expedition | Max Platinum |
| 2018-2019 | Ford | Expedition | Max XL |
| 2015-2019 | Ford | Expedition | Platinum |
| 2016-2019 | Ford | Expedition | SSV |
| 2015-2019 | Ford | Expedition | XL |
| 2015-2019 | Ford | Expedition | XLT |
| 2012-2019 | Ford | Explorer | Base |
| 2012-2019 | Ford | Explorer | Limited |
| 2016-2019 | Ford | Explorer | Platinum |
| 2013-2019 | Ford | Explorer | Sport |
| 2012-2019 | Ford | Explorer | XLT |
| 2011-2014 | Ford | F-150 | FX2 |
| 2011-2014 | Ford | F-150 | FX4 |
| 2011-2019 | Ford | F-150 | King Ranch |
| 2011-2019 | Ford | F-150 | Lariat |
| 2013-2014,2016-2019 | Ford | F-150 | Limited |
| 2011-2019 | Ford | F-150 | Platinum |
| 2017-2019 | Ford | F-150 | Raptor |
| 2016-2019 | Ford | F-150 | SSV |
| 2011-2019 | Ford | F-150 | XL |
| 2011-2019 | Ford | F-150 | XLT |
| 2011-2019 | Ford | Fiesta | S |
| 2011-2019 | Ford | Fiesta | SE |
| 2011-2012 | Ford | Fiesta | SEL |
| 2011-2012 | Ford | Fiesta | SES |
| 2013-2018 | Ford | Fiesta | Titanium |
| 2010-2019 | Ford | Flex | Limited |
| 2010-2014,2017 | Ford | Flex | SEL |
| 2011-2012 | Ford | Flex | Titanium |
| 2016-2018 | Ford | Focus | RS |
| 2012-2018 | Ford | Focus | S |
| 2012-2018 | Ford | Focus | SE |
| 2012,2017-2018 | Ford | Focus | SEL |
| 2013-2018 | Ford | Focus | ST |
| 2012-2018 | Ford | Focus | Titanium |
| 2017-2018 | Ford | Fusion | Platinum |
| 2013-2020 | Ford | Fusion | SE |
| 2019 | Ford | Fusion | SEL |
| 2013-2020 | Ford | Fusion | Titanium |
| 2015-2020 | Ford | Mustang | EcoBoost |
| 2015-2020 | Ford | Mustang | EcoBoost Premium |
| 2013-2019 | Ford | Police Interceptor Sedan | Base |
| 2014-2019 | Ford | Police Interceptor Utility | Base |
| 2019 | Ford | Ranger | Lariat |
| 2019 | Ford | Ranger | XL |
| 2019 | Ford | Ranger | XLT |
| 2014-2018 | Ford | Special Service Police Sedan | Base |
| 2013-2019 | Ford | Taurus | Limited |
| 2013-2019 | Ford | Taurus | SE |
| 2013-2019 | Ford | Taurus | SEL |
| 2010-2019 | Ford | Taurus | SHO |
| 2019-2020 | Ford | Transit Connect | Titanium |
| 2019-2020 | Ford | Transit Connect | XL |
| 2019-2020 | Ford | Transit Connect | XLT |
| 2015-2019 | Ford | Transit-150 | Base |
| 2015-2019 | Ford | Transit-150 | XL |
| 2015-2019 | Ford | Transit-150 | XLT |
| 2015-2019 | Ford | Transit-250 | Base |
| 2016-2019 | Ford | Transit-250 | PTV |
| 2015-2019 | Ford | Transit-350 | Base |
| 2015-2019 | Ford | Transit-350 | XL |
| 2015-2019 | Ford | Transit-350 | XLT |
| 2015-2019 | Ford | Transit-350 HD | Base |
| 2015-2019 | Ford | Transit-350 HD | XL |
| 2015-2019 | Ford | Transit-350 HD | XLT |
| 2018-2020 | GMC | Terrain | Denali |
| 2018-2020 | GMC | Terrain | SLE |
| 2018-2020 | GMC | Terrain | SLT |
| 2017 | Jaguar | XE | Base |
| 2017 | Jaguar | XE | Premium |
| 2017 | Jaguar | XE | Prestige |
| 2013-2014 | Jaguar | XF | Base |
| 2015 | Jaguar | XF | Premium |
| 2015-2017 | Land Rover | Discovery Sport | HSE |
| 2015-2016 | Land Rover | Discovery Sport | HSE Lux |
| 2017 | Land Rover | Discovery Sport | HSE Luxury |
| 2015-2017 | Land Rover | Discovery Sport | SE |
| 2013-2015 | Land Rover | LR2 | Base |
| 2013-2015 | Land Rover | LR2 | HSE |
| 2013-2015 | Land Rover | LR2 | HSE Lux |
| 2015-2017 | Land Rover | Range Rover Evoque | Autobiography |
| 2015 | Land Rover | Range Rover Evoque | Autobiography Dynamic |
| 2012-2015 | Land Rover | Range Rover Evoque | Dynamic |
| 2016-2017 | Land Rover | Range Rover Evoque | HSE |
| 2016-2017 | Land Rover | Range Rover Evoque | HSE Dynamic |
| 2012-2015 | Land Rover | Range Rover Evoque | Prestige |
| 2012-2015 | Land Rover | Range Rover Evoque | Pure |
| 2016-2017 | Land Rover | Range Rover Evoque | SE |
| 2017 | Land Rover | Range Rover Evoque | SE Dynamic |
| 2016-2017 | Land Rover | Range Rover Evoque | SE Premium |
| 2015,2019 | Lincoln | MKC | Base |
| 2015-2019 | Lincoln | MKC | Black Label |
| 2016-2018 | Lincoln | MKC | Premiere |
| 2016-2019 | Lincoln | MKC | Reserve |
| 2016-2019 | Lincoln | MKC | Select |
| 2010-2016 | Lincoln | MKS | EcoBoost |
| 2013-2017,2019 | Lincoln | MKT | Base |
| 2010-2016 | Lincoln | MKT | EcoBoost |
| 2018-2019 | Lincoln | MKT | Reserve |
| 2013-2016,2019-2020 | Lincoln | MKZ | Base |
| 2015-2018 | Lincoln | MKZ | Black Label |
| 2017-2018 | Lincoln | MKZ | Premiere |
| 2017-2018,2020 | Lincoln | MKZ | Reserve |
| 2017-2018 | Lincoln | MKZ | Select |
| 2019-2020 | Lincoln | Nautilus | Base |
| 2019-2020 | Lincoln | Nautilus | Black Label |
| 2019-2020 | Lincoln | Nautilus | Reserve |
| 2019-2020 | Lincoln | Nautilus | Select |
| 2015,2019 | Lincoln | Navigator | Base |
| 2018-2019 | Lincoln | Navigator | Black Label |
| 2015 | Lincoln | Navigator | L |
| 2016-2019 | Lincoln | Navigator | L Reserve |
| 2016-2019 | Lincoln | Navigator | L Select |
| 2018 | Lincoln | Navigator | Premiere |
| 2016-2019 | Lincoln | Navigator | Reserve |
| 2016-2019 | Lincoln | Navigator | Select |
| 2007-2009 | Mazda | 3 | Mazdaspeed |
| 2006-2007 | Mazda | 6 | Mazdaspeed |
| 2007-2009 | Mazda | CX-7 | Grand Touring |
| 2007-2009 | Mazda | CX-7 | Sport |
| 2007-2009 | Mazda | CX-7 | Touring |