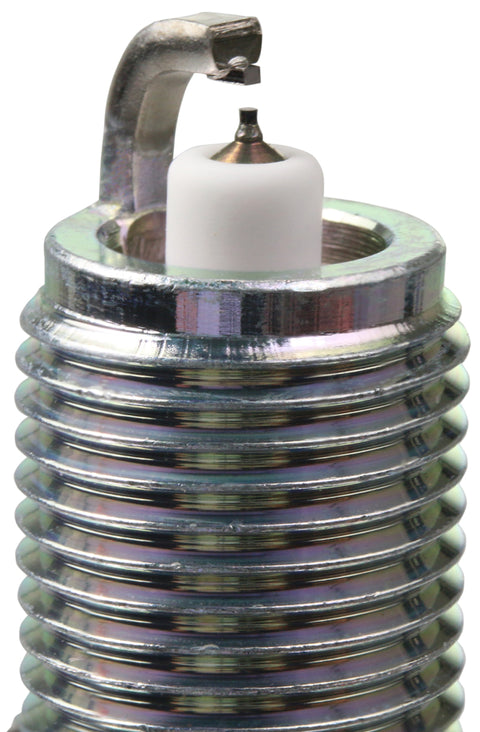 NGK
NGK Ruthenium HX Spark Plug Box of 4 (FR7BHX-S)
Introducing the NGK Ruthenium HX Spark Plug, the latest addition to our line of high-quality automotive products. Our spark plugs are engineered with the latest technology to provide reliable ignition and improved engine performance, making them the perfect choice for any vehicle owner looking to enhance their driving experience.

The NGK Ruthenium HX Spark Plug features a unique design that utilizes a fine-wire center electrode and a tapered cut ground electrode to maximize spark exposure, resulting in more complete combustion and increased fuel efficiency. Additionally, the ruthenium alloy used in the electrode construction provides superior wear resistance and durability, ensuring long-lasting performance and reliable ignition.

Each box of NGK Ruthenium HX Spark Plugs contains four spark plugs (part number FR7BHX-S) that are specifically designed to fit a variety of vehicles. Our spark plugs are designed to meet or exceed OEM specifications, ensuring a perfect fit and optimal performance.

Upgrade your vehicle's ignition system with NGK Ruthenium HX Spark Plugs and experience improved engine performance and efficiency. Order your box of four today and enjoy the benefits of a smoother, more responsive ride.


This Part Fits:
| Year | Make | Model | Submodel |
| --- | --- | --- | --- |
| 2002-2006 | Acura | RSX | Type-S |
| 2006-2013 | Audi | A3 | Base |
| 2009-2013 | Audi | A3 Quattro | Base |
| 2005-2014 | Audi | A4 | Base |
| 2007-2009 | Audi | A4 | Cabriolet |
| 2015-2016 | Audi | A4 | Premium |
| 2015-2016 | Audi | A4 | Premium Plus |
| 2015 | Audi | A4 | Prestige |
| 2005-2012 | Audi | A4 Quattro | Avant |
| 2005-2014 | Audi | A4 Quattro | Base |
| 2007-2009 | Audi | A4 Quattro | Cabriolet |
| 2015-2016 | Audi | A4 Quattro | Premium |
| 2015-2016 | Audi | A4 Quattro | Premium Plus |
| 2015 | Audi | A4 Quattro | Prestige |
| 2010-2014 | Audi | A5 | Cabriolet |
| 2010-2014 | Audi | A5 Quattro | Base |
| 2010-2014 | Audi | A5 Quattro | Cabriolet |
| 2015-2016 | Audi | A5 Quattro | Premium |
| 2015-2016 | Audi | A5 Quattro | Premium Plus |
| 2015 | Audi | A5 Quattro | Prestige |
| 2017 | Audi | A5 Quattro | Sport |
| 2006-2008 | Audi | A6 | Base |
| 2012-2015 | Audi | A6 | Premium |
| 2012-2015 | Audi | A6 | Premium Plus |
| 2006-2008 | Audi | A6 Quattro | Avant |
| 2005-2008 | Audi | A6 Quattro | Base |
| 2013-2015 | Audi | A6 Quattro | Premium |
| 2013-2015 | Audi | A6 Quattro | Premium Plus |
| 2013-2015 | Audi | allroad | Premium |
| 2013-2015 | Audi | allroad | Premium Plus |
| 2013-2015 | Audi | allroad | Prestige |
| 2017-2018 | Audi | Q3 | Premium |
| 2015-2018 | Audi | Q3 | Premium Plus |
| 2015-2017 | Audi | Q3 | Prestige |
| 2017-2018 | Audi | Q3 Quattro | Premium |
| 2015-2018 | Audi | Q3 Quattro | Premium Plus |
| 2015-2017 | Audi | Q3 Quattro | Prestige |
| 2013-2016 | Audi | Q5 | Hybrid Prestige |
| 2011-2017 | Audi | Q5 | Premium |
| 2011-2017 | Audi | Q5 | Premium Plus |
| 2008-2012,2014-2015,2017 | Audi | R8 | Base |
| 2012 | Audi | R8 | GT |
| 2012 | Audi | R8 | GT Spyder |
| 2014-2015,2017 | Audi | R8 | Plus |
| 2011-2012,2014-2015,2017 | Audi | R8 | Spyder |
| 2007-2008 | Audi | RS4 | Base |
| 2008 | Audi | RS4 | Cabriolet |
| 2013-2015 | Audi | RS5 | Base |
| 2014-2015 | Audi | RS5 | Cabriolet |
| 2003 | Audi | RS6 | Base |
| 2008-2009 | Audi | TT | Base |
| 2009-2011,2014-2015 | Audi | TT Quattro | Base |
| 2012-2013 | Audi | TT Quattro | Premium Plus |
| 2012-2013 | Audi | TT Quattro | Prestige |
| 2009-2015 | Audi | TTS Quattro | Base |
| 2007-2008 | BMW | Alpina B7 | Base |
| 2013-2020 | Buick | Encore | Base |
| 2013-2016 | Buick | Encore | Convenience |
| 2017-2020 | Buick | Encore | Essence |
| 2013-2016 | Buick | Encore | Leather |
| 2017-2020 | Buick | Encore | Preferred |
| 2017-2018 | Buick | Encore | Preferred II |
| 2013-2018 | Buick | Encore | Premium |
| 2017-2020 | Buick | Encore | Sport Touring |
| 2011-2015 | Chevrolet | Cruze | Eco |
| 2011-2015 | Chevrolet | Cruze | LT |
| 2011-2015 | Chevrolet | Cruze | LTZ |
| 2016 | Chevrolet | Cruze Limited | Eco |
| 2016 | Chevrolet | Cruze Limited | LT |
| 2016 | Chevrolet | Cruze Limited | LTZ |
| 2019-2020 | Chevrolet | Sonic | LS |
| 2012-2020 | Chevrolet | Sonic | LT |
| 2012-2016 | Chevrolet | Sonic | LTZ |
| 2017-2020 | Chevrolet | Sonic | Premier |
| 2013-2016 | Chevrolet | Sonic | RS |
| 2015-2020 | Chevrolet | Trax | LS |
| 2015-2020 | Chevrolet | Trax | LT |
| 2015-2016 | Chevrolet | Trax | LTZ |
| 2017-2020 | Chevrolet | Trax | Premier |
| 1998-2011 | Honda | Civic | GX |
| 2008 | Honda | Civic | MUGEN Si |
| 2006-2011 | Honda | Civic | Si |
| 2000-2009 | Honda | S2000 | Base |
| 2008-2009 | Honda | S2000 | CR |
| 2003-2006 | Porsche | Cayenne | Turbo |
| 2006 | Porsche | Cayenne | Turbo S |
| 2012-2013 | Volkswagen | Beetle | Turbo |
| 2014-2015 | Volkswagen | CC | Executive |
| 2012-2013 | Volkswagen | CC | Lux |
| 2012 | Volkswagen | CC | Lux Limited |
| 2012 | Volkswagen | CC | Lux Plus |
| 2009-2011 | Volkswagen | CC | Luxury |
| 2011-2016 | Volkswagen | CC | R-Line |
| 2016-2017 | Volkswagen | CC | R-Line Executive |
| 2009-2017 | Volkswagen | CC | Sport |
| 2013 | Volkswagen | CC | Sport Plus |
| 2016 | Volkswagen | CC | Trend |
| 2007 | Volkswagen | Eos | 2.0T |
| 2007 | Volkswagen | Eos | Base |
| 2012-2015 | Volkswagen | Eos | Executive |
| 2015 | Volkswagen | Eos | Final Edition |
| 2008-2016 | Volkswagen | Eos | Komfort |
| 2008-2013 | Volkswagen | Eos | Lux |
| 2013-2014 | Volkswagen | Eos | Sport |
| 2008 | Volkswagen | Eos | Turbo |
| 2012-2013 | Volkswagen | Golf R | Base |
| 2006-2013 | Volkswagen | GTI | Base |
| 2014 | Volkswagen | GTI | Driver's Edition |
| 2007 | Volkswagen | GTI | Fahrenheit |
| 2014 | Volkswagen | GTI | Wolfsburg Edition |
| 2006-2007 | Volkswagen | Jetta | 2.0T |
| 2006-2009,2012-2013 | Volkswagen | Jetta | GLI |
| 2009 | Volkswagen | Jetta | SEL |
| 2008-2010 | Volkswagen | Jetta | Wolfsburg Edition |
| 2006-2007 | Volkswagen | Passat | 2.0T |
| 2008-2010 | Volkswagen | Passat | Komfort |
| 2008 | Volkswagen | Passat | Lux |
| 2008 | Volkswagen | Passat | Turbo |
| 2006-2007 | Volkswagen | Passat | Value Edition |
| 2007 | Volkswagen | Passat | Wolfsburg Edition |
| 2014-2016 | Volkswagen | Tiguan | R-Line |
| 2009-2017 | Volkswagen | Tiguan | S |
| 2009-2016 | Volkswagen | Tiguan | SE |
| 2009-2017 | Volkswagen | Tiguan | SEL |
| 2017 | Volkswagen | Tiguan | Sport |
| 2010,2017 | Volkswagen | Tiguan | Wolfsburg Edition |
| 2017-2018 | Volkswagen | Tiguan Limited | Base |