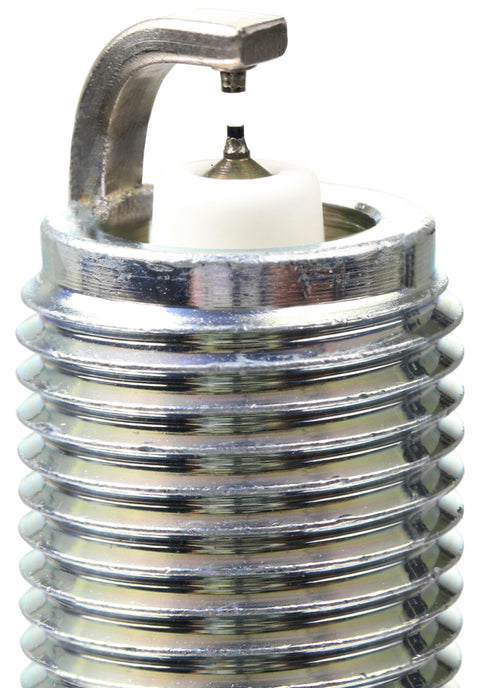 NGK
NGK Ruthenium HX Spark Plug Box of 4 (LFR5AHX)
Looking for a high-quality spark plug that can take your vehicle's performance to the next level? Look no further than the NGK Ruthenium HX Spark Plug.

Crafted from top-quality materials, these spark plugs offer unparalleled durability and performance. The Ruthenium HX technology ensures maximum performance and efficiency, helping to reduce emissions and improve fuel economy. Plus, the unique design of the spark plugs provides superior ignitability, resulting in smoother acceleration and improved throttle response.

Each box of NGK Ruthenium HX Spark Plugs includes four high-quality spark plugs, making it easy to upgrade your entire engine. Whether you're a professional mechanic or a DIY enthusiast, these spark plugs are the perfect choice for anyone looking to maximize their vehicle's performance.

So why wait? Order your box of NGK Ruthenium HX Spark Plugs today and experience the ultimate in performance and reliability!


This Part Fits:
| Year | Make | Model | Submodel |
| --- | --- | --- | --- |
| 2015-2017 | Chrysler | 200 | C |
| 2015-2017 | Chrysler | 200 | Limited |
| 2015-2017 | Chrysler | 200 | LX |
| 2015-2017 | Chrysler | 200 | S |
| 2009-2012,2014-2020 | Chrysler | 300 | C |
| 2014 | Chrysler | 300 | C Luxury |
| 2015-2017 | Chrysler | 300 | C Platinum |
| 2010,2012,2014-2020 | Chrysler | 300 | S |
| 2009 | Chrysler | Aspen | Limited |
| 2009-2020 | Dodge | Challenger | R/T |
| 2012 | Dodge | Challenger | R/T Classic |
| 2015-2016 | Dodge | Challenger | R/T Plus |
| 2016 | Dodge | Challenger | R/T Plus Shaker |
| 2016 | Dodge | Challenger | R/T Shaker |
| 2017-2018 | Dodge | Challenger | T/A |
| 2017-2018 | Dodge | Charger | Daytona |
| 2012-2020 | Dodge | Charger | Pursuit |
| 2009-2020 | Dodge | Charger | R/T |
| 2015-2016 | Dodge | Charger | R/T Road & Track |
| 2009-2013 | Dodge | Charger | SE |
| 2013-2016 | Dodge | Dart | GT |
| 2013-2016 | Dodge | Dart | Limited |
| 2013 | Dodge | Dart | R/T |
| 2013 | Dodge | Dart | Rallye |
| 2013-2016 | Dodge | Dart | SE |
| 2013-2016 | Dodge | Dart | SXT |
| 2011-2020 | Dodge | Durango | Citadel |
| 2011-2013 | Dodge | Durango | Crew |
| 2009,2014-2015 | Dodge | Durango | Limited |
| 2018-2020 | Dodge | Durango | Pursuit |
| 2011-2020 | Dodge | Durango | R/T |
| 2009 | Dodge | Durango | SE |
| 2009 | Dodge | Durango | SLT |
| 2012-2020 | Dodge | Durango | Special Service |
| 2009-2010 | Dodge | Ram 1500 | Laramie |
| 2009-2010 | Dodge | Ram 1500 | SLT |
| 2009-2010 | Dodge | Ram 1500 | Sport |
| 2009-2010 | Dodge | Ram 1500 | ST |
| 2009-2010 | Dodge | Ram 1500 | TRX |
| 2009-2010 | Dodge | Ram 1500 | TRX4 |
| 2009-2010 | Dodge | Ram 2500 | Laramie |
| 2009-2010 | Dodge | Ram 2500 | Power Wagon |
| 2009-2010 | Dodge | Ram 2500 | SLT |
| 2009-2010 | Dodge | Ram 2500 | ST |
| 2009-2010 | Dodge | Ram 2500 | SXT |
| 2010 | Dodge | Ram 2500 | TRX |
| 2009 | Dodge | Ram 3500 | Laramie |
| 2009 | Dodge | Ram 3500 | SLT |
| 2009 | Dodge | Ram 3500 | ST |
| 2009 | Dodge | Ram 3500 | SXT |
| 2016 | Fiat | 500X | Easy |
| 2016-2018 | Fiat | 500X | Lounge |
| 2016-2018 | Fiat | 500X | Pop |
| 2016-2018 | Fiat | 500X | Trekking |
| 2016 | Fiat | 500X | Trekking Plus |
| 2017-2018 | Fiat | 500X | Urbana |
| 2011 | Hyundai | Equus | Signature |
| 2011 | Hyundai | Equus | Ultimate |
| 2009 | Hyundai | Genesis | 3.8 |
| 2009-2012 | Hyundai | Genesis | 4.6 |
| 2007-2012 | Hyundai | Santa Fe | GLS |
| 2010-2012 | Hyundai | Santa Fe | Limited |
| 2009-2010 | Hyundai | Sonata | GLS |
| 2009-2010 | Hyundai | Sonata | Limited |
| 2009-2010 | Hyundai | Sonata | SE |
| 2011-2013 | Hyundai | Tucson | GL |
| 2010-2013 | Hyundai | Tucson | GLS |
| 2010-2013 | Hyundai | Tucson | Limited |
| 2003-2008 | Infiniti | FX35 | Base |
| 2003-2008 | Infiniti | FX45 | Base |
| 2003-2007 | Infiniti | G35 | Base |
| 2004-2006 | Infiniti | G35 | X |
| 2002-2004 | Infiniti | I35 | Base |
| 2006-2008 | Infiniti | M35 | Base |
| 2006-2007 | Infiniti | M35 | Sport |
| 2006-2008 | Infiniti | M35 | X |
| 2003-2004,2006-2010 | Infiniti | M45 | Base |
| 2006-2007 | Infiniti | M45 | Sport |
| 2008-2010 | Infiniti | M45 | X |
| 2002-2006 | Infiniti | Q45 | Base |
| 2001-2003 | Infiniti | QX4 | Base |
| 2004-2010 | Infiniti | QX56 | Base |
| 2016 | Jeep | Cherokee | 75th Anniversary |
| 2019-2020 | Jeep | Cherokee | Altitude |
| 2019-2020 | Jeep | Cherokee | High Altitude |
| 2014-2020 | Jeep | Cherokee | Latitude |
| 2014-2020 | Jeep | Cherokee | Limited |
| 2016-2018 | Jeep | Cherokee | Overland |
| 2014-2017 | Jeep | Cherokee | Sport |
| 2014-2018 | Jeep | Cherokee | Trailhawk |
| 2009-2010 | Jeep | Commander | Limited |
| 2009 | Jeep | Commander | Overland |
| 2010 | Jeep | Commander | Sport |
| 2019-2020 | Jeep | Compass | Altitude |
| 2019-2020 | Jeep | Compass | High Altitude |
| 2017-2020 | Jeep | Compass | Latitude |
| 2017-2020 | Jeep | Compass | Limited |
| 2017-2020 | Jeep | Compass | Sport |
| 2017-2020 | Jeep | Compass | Trailhawk |
| 2018-2020 | Jeep | Grand Cherokee | High Altitude |
| 2010-2013 | Jeep | Grand Cherokee | Laredo |
| 2009-2020 | Jeep | Grand Cherokee | Limited |
| 2009,2011-2020 | Jeep | Grand Cherokee | Overland |
| 2012 | Jeep | Grand Cherokee | Overland Summit |
| 2014-2020 | Jeep | Grand Cherokee | Summit |
| 2017-2020 | Jeep | Grand Cherokee | Trailhawk |
| 2016 | Jeep | Renegade | 75th Anniversary |
| 2018-2020 | Jeep | Renegade | Altitude |
| 2016 | Jeep | Renegade | Dawn Of Justice |
| 2015-2020 | Jeep | Renegade | Latitude |
| 2015-2018 | Jeep | Renegade | Limited |
| 2015-2020 | Jeep | Renegade | Sport |
| 2015-2018 | Jeep | Renegade | Trailhawk |
| 2009 | Kia | Borrego | EX |
| 2009 | Kia | Borrego | LX |
| 2010-2013 | Kia | Forte | EX |
| 2010-2013 | Kia | Forte | LX |
| 2010-2013 | Kia | Forte | SX |
| 2010-2013 | Kia | Forte Koup | EX |
| 2010-2013 | Kia | Forte Koup | SX |
| 2006-2010 | Kia | Optima | EX |
| 2006-2010 | Kia | Optima | LX |
| 2009-2010 | Kia | Optima | SX |
| 2007-2010 | Kia | Rondo | EX |
| 2007-2010 | Kia | Rondo | LX |
| 2011-2012 | Kia | Sorento | Base |
| 2011 | Kia | Sorento | EX |
| 2011-2013 | Kia | Sorento | LX |
| 2011-2013 | Kia | Sportage | Base |
| 2011-2013 | Kia | Sportage | EX |
| 2011-2013 | Kia | Sportage | LX |
| 2014-2015 | Mitsubishi | Mirage | DE |
| 2014-2015,2017-2018 | Mitsubishi | Mirage | ES |
| 2017-2018 | Mitsubishi | Mirage | GT |
| 2015 | Mitsubishi | Mirage | RF |
| 2017-2018 | Mitsubishi | Mirage | SE |
| 2005 | Nissan | 350Z | 35th Anniversary Edition |
| 2003-2006 | Nissan | 350Z | Base |
| 2003-2006 | Nissan | 350Z | Enthusiast |
| 2005-2006 | Nissan | 350Z | Grand Touring |
| 2003-2005 | Nissan | 350Z | Performance |
| 2003-2006 | Nissan | 350Z | Touring |
| 2003-2006 | Nissan | 350Z | Track |
| 2002-2004,2006 | Nissan | Altima | Base |
| 2002-2006 | Nissan | Altima | S |
| 2002-2006 | Nissan | Altima | SE |
| 2005-2006 | Nissan | Altima | SE-R |
| 2002-2006 | Nissan | Altima | SL |
| 2005-2009 | Nissan | Armada | LE |
| 2010-2015 | Nissan | Armada | Platinum |
| 2005-2010 | Nissan | Armada | SE |
| 2005-2006 | Nissan | Armada | SE Off-Road |
| 2011-2015 | Nissan | Armada | SL |
| 2011-2015 | Nissan | Armada | SV |
| 2010 | Nissan | Armada | Titanium |
| 2013-2019 | Nissan | Frontier | Desert Runner |
| 2005-2010 | Nissan | Frontier | LE |
| 2005-2008 | Nissan | Frontier | Nismo Off-Road |
| 2009-2019 | Nissan | Frontier | PRO-4X |
| 2011-2019 | Nissan | Frontier | S |
| 2005-2010 | Nissan | Frontier | SE |
| 2011-2019 | Nissan | Frontier | SL |
| 2011-2019 | Nissan | Frontier | SV |
| 2002-2003 | Nissan | Maxima | GLE |
| 2002-2003 | Nissan | Maxima | GXE |
| 2002-2008 | Nissan | Maxima | SE |
| 2004-2008 | Nissan | Maxima | SL |
| 2005-2007 | Nissan | Murano | S |
| 2003-2007 | Nissan | Murano | SE |
| 2003-2007 | Nissan | Murano | SL |
| 2012-2020 | Nissan | NV1500 | S |
| 2012-2020 | Nissan | NV1500 | SV |
| 2012-2020 | Nissan | NV2500 | S |
| 2015-2020 | Nissan | NV2500 | SL |
| 2012-2020 | Nissan | NV2500 | SV |
| 2012-2020 | Nissan | NV3500 | S |
| 2012-2017 | Nissan | NV3500 | SL |
| 2012-2020 | Nissan | NV3500 | SV |
| 2001-2012 | Nissan | Pathfinder | LE |
| 2006-2012 | Nissan | Pathfinder | S |
| 2001-2010 | Nissan | Pathfinder | SE |
| 2005-2009 | Nissan | Pathfinder | SE Off-Road |
| 2011-2012 | Nissan | Pathfinder | Silver Edition |
| 2011-2012 | Nissan | Pathfinder | SV |
| 2001,2005 | Nissan | Pathfinder | XE |
| 2004 | Nissan | Pathfinder Armada | LE |
| 2004 | Nissan | Pathfinder Armada | SE |
| 2005-2009 | Nissan | Quest | Base |
| 2004-2009 | Nissan | Quest | S |
| 2004-2009 | Nissan | Quest | SE |
| 2004-2009 | Nissan | Quest | SL |
| 2004-2006 | Nissan | Sentra | Base |
| 2001-2002 | Nissan | Sentra | CA |
| 2000-2003 | Nissan | Sentra | GXE |
| 2003 | Nissan | Sentra | Limited Edition |
| 2004-2006 | Nissan | Sentra | S |
| 2002-2006 | Nissan | Sentra | SE-R |
| 2002-2006 | Nissan | Sentra | SE-R Spec V |
| 2000-2003 | Nissan | Sentra | XE |
| 2004-2010 | Nissan | Titan | LE |